Be Prepared for Medicaid Renewal Changes
Take Action to Complete Your Member Renewal
The COVID-19 public health emergency continuous coverage requirement is ending. HealthFirst Colorado (Colorado's Medicaid program) and Child Health Plan Plus (CHP+) will return to normal Medicaid renewal processes with the first notices going out in March for members with renewals due in May 2023. Not all members will be renewed at the same time. Each member's renewal month will align with their already established annual renewal month. Colorado will take 12 months (14 months including noticing) to renew members based on their existing annual renewal date. Some members will be automatically renewed for Medicaid benefits based on the most recent information already on file with the state. Other members will need to go through the Colorado Medicaid renewal process and take action. The Department will send renewal packets to those members in advance of their renewal dates with key information and their individual timelines to take action. The first Colorado Medicaid and CHP+ renewals are due in May 2023.
If you are a Health First Colorado (Colorado Medicaid) or CHP+ member, please make sure your contact information is up to date in PEAK in case we need to send you a Medicaid renewal packet. If you do not have a PEAK account, you can create one at CO.gov/PEAK. You can also contact your county to make sure your address and other contact information is up to date. You will receive a Medicaid renewal packet in PEAK when your renewal date is approaching and through the Health First Colorado app if you are opted in. You can also see your Medicaid renewal date in PEAK at any time. If you receive a renewal packet, make sure you fill it out, sign it, and return it by the due date. If you have questions about the renewal process, you can visit hfcgo.com/renewals.Colorado PEAK (CO.gov/PEAK) is an online platform that any Coloradan can use to apply for or manage medical, SNAP, cash or other State of Colorado benefits. If you are in ineligible for renewal, you can learn more about how to get started transition from Health First Colorado or CHP+.
Connect with an Axis Enrollment Specialist to get help with all your Health First Colorado or CHP+ questions.​Durango & Pagosa Spring
Tyra Johnson 970-903-3070
Amber Anderson at 970-828-6017
aanderson@axishealthsystem.org​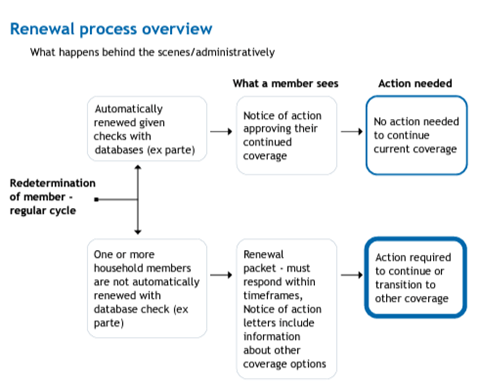 Health First Colorado and CHP+ members can use PEAK or the Health First Colorado app to manage their benefits.
PEAK is an important self-service tool for members to receive timely notifications, update contact information and manage their benefits. There are two ways members can receive notifications digitally:
1. Through the PEAK platform by adjusting their communication preferences
2. Through the Health First Colorado app by opting in to push notifications.
Members will receive a notification in PEAK when their renewal period is approaching and through the app if they are opted in. They can also see their renewal date in PEAK at any time.
Members will receive a renewal packet approximately 70 calendar days in advance of the renewal deadline to allow time for completion. They can begin the renewal process in the PEAK platform or by mail. Below are some resources for partner organizations and assisters to help members along in the renewal process using PEAK.
How the Medicaid and CHP+ Renewal Process Works
Cómo funciona el proceso de renovación de Medicaid y CHP+