Jared Kellerman, MS, NLC, a child and adolescent therapist at Cortez Integrated Healthcare, observes a client through a one-way mirror and offers support during a Parent-Child Interaction Therapy session.
Parents, we've got your back in these challenging times.
Four therapists have joined our team, and they are accepting new patients at these clinics: Columbine Behavioral Healthcare in Durango, Archuleta Integrated Healthcare in Pagosa Springs, and Cortez Integrated Healthcare. The team is ready to help youth with mental health concerns at a critical time during the pandemic.
"We know that COVID has been hard for many families and has impacted children and teens," said Casie LaMunyon, LPC, Behavioral Health Manager at Cortez Integrated Healthcare. "We can provide families with support and help them adjust to these new stresses and changes."
After the highly qualified behavioral health providers joined the Axis team, they received new training in Parent-Child Interaction Therapy (PCIT).  In this treatment, kids play, therapists coach and parents learn. PCIT is an evidence-based practice for children ages 2 to 10 that's designed to improve the functioning of children with emotional and behavioral disorders. For parents, it's like having a therapist whispering advice and encouragement in your ear. PCIT is conducted through "coaching" sessions during which you and your child are in a playroom. The therapist is in an observation room supporting you as you interact with your child through a one-way mirror. You wear a "bug-in-the-ear" device through which the therapist provides in-the-moment coaching on skills you are learning to manage your child's behavior.
This therapy could be helpful for parents who are concerned about the following:
Calls from school about your child's behavior
Your child being destructive and breaking things on purpose
Feeling overwhelmed by your child's tantrums
Feeling embarrassed by your child's behavior in public
"PCIT teaches parents simple skills that help them support their children," said LaMunyon. "These are skills that can benefit any family with young kids. The children really love coming to our clinic and having the one-on-one time with the adults in their lives."
LaMunyon, a certified PCIT trainer and training leader at Axis for nearly 10 years, and Dagny Lodowski, LMFT, the clinical supervisor of child, adolescent, and family therapy services, have worked to establish a "train the trainer" model for PCIT. They now have six therapists who can provide this effective therapy. PCIT has been studied internationally and is effective for many behavioral and emotional issues. It has been praised for its use in developing parenting skills around screen-time limits, and helps support families respond to all levels of youth mental health needs. PCIT can be adapted for different cultures, age groups, siblings and special populations, such as families with histories of abuse or severely aggressive children. It is also helpful for at-risk parents or parents who simply may be frustrated by a child's behavior and need some additional support.
To schedule an appointment for you and your child, call the clinic nearest you: In Durango, call 970.259.2162; in Cortez call 970.565.7946; in Pagosa Springs call 970.264.2104.
Meet our team! The following child, adolescent and family therapists are trained in PCIT and are accepting new patients: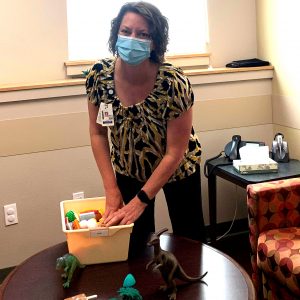 Casie LaMunyon, LPC, a therapist at Cortez Integrated Healthcare, organizes a box of toys for Parent-Child Interaction Therapy sessions.