We have a whole lot of health care options.
Let's work together to help you feel better – body and mind. Mental
Health Mental
Health
COVID-19: vaccination scheduling & resources

Patient-focused.
Here for you.
OUR MISSION
Axis Health System will make a meaningful difference in the health of Southwest Colorado communities, working to integrate all aspects of healthcare and treat the whole person.
felt their wait time was reasonable
would recommend their provider to a friend or family member
felt they were treated with dignity and respect
felt their provider explained things in a way that was easy to understand
felt their healthcare provider listened to the reasons for their visit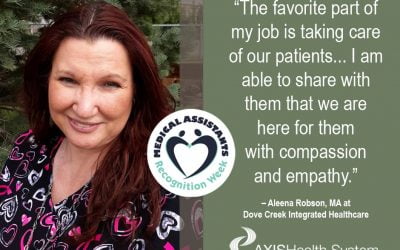 "Not all heroes wear capes." That's the superhero theme for the 2021 Medical Assistants Recognition Week, and it's a fitting description of these vital members of Axis Health System's care teams. Axis is celebrating 12 staff members during the recognition week, which...
read more

Need help now?
Our team can help you while you're waiting for a scheduled visit. You don't have to be in crisis. We are here for you day and night. Call the Axis Care Hotline to talk about your mental health or substance use concerns. 970.247.5245.  You will be quickly connected to local services and a team will respond immediately. Professional and compassionate care providers will answer your call 24 hours a day, seven days a week.
Quality health care for all.
We serve our community and everyone in it. Our services are open to all, regardless of their ability to pay. We support health equity, which means everyone has a fair opportunity to live a long and healthy life. Our staff welcomes patients of all genders, ethnicities, races and socioeconomic levels. We believe everyone deserves the opportunity to thrive.
Axis Health System is a provider of Colorado Crisis System Services. Funded in part by the Colorado Department of Human Services. 
Axis Health System complies with applicable Federal civil rights laws and does not discriminate on the basis of race, color, national origin, age, disability, or sex. Axis Health System does not exclude people or treat them differently because of race, color, national origin, age, disability or sex. For more information, click here.