The following coronavirus resources support community members in Southwest Colorado.
Axis Health System is providing COVID-19 vaccinations to community members who qualify for the Colorado vaccination phase distribution levels set by the Colorado Department of Public Health & Education (CDPHE) . To schedule your appointment, click the button above.
COVID-19 Vaccination FAQs
How do I sign up for a vaccination through Axis? To sign up for a COVID-19 vaccination, please fill out our Online Vaccination Scheduling Form.  If you prefer to call and leave a message, call the Axis Health System Vaccination Information Line at 970.828.2539.
What is your scheduling process?  We are scheduling people who are eligible for vaccine distribution categories as determined by the Colorado Department of Public Health and Environment (CDPHE). We will proceed through the scheduling list in order of submission. Click here to check your eligibility in the current Colorado vaccination distribution schedule.  If you are not yet eligible, please check back again soon, as vaccination information can change quickly. If your phase is eligible, you may schedule your appointment through our Online Vaccination Scheduling Form, OR you may call 970.828.2539 and leave a message requesting to be added to the scheduling list. If calling, please provide the following information: 
First and last name

Date of birth

Phone number

County of residence
How do I know if I am eligible for a vaccination? Vaccination phase classification is determined by the Colorado Department of Public Health and Environment (CDPHE). It is an evolving process based on many different factors. The most up to date information for Colorado is available here. This includes information on distribution phases as well as the vaccines.  
What documents do I need to confirm my vaccination eligibility status?  We will ask you to attest to your eligibility on your registration form. You do not need to bring any documentaion to your appointment, including ID, medical forms or insurance cards. 
How long do I have to wait? Due to the currently limited resources for vaccine distribution, we cannot provide a timeline for scheduling your vaccination.  
How will I be notified about a vaccination appointment? If you choose the  Online Vaccination Scheduling Form, you will receive a confirmation of your appointment upon booking. If you call and leave a message, we will call you within a week to schedule an appointment. 
Will I be scheduled and notified for a second dose, if needed (Pfizer/Moderna)?  Yes, we will automatically schedule you for your second dose. We will follow up with you through your preferred method of contact and provide details on the time and location of your appointment.  
Are you giving Pfizer, Moderna or Johnson & Johnson? Can I choose which one I want?  We primarily offer the Moderna vaccine, and will offer additional vaccines as they become available. We cannot guarantee which vaccine you will receive. We always recommend you take the first vaccine available to you. If you choose to wait for a specific vaccine, it could take significantly longer for you to receive your vaccination.  
Can I receive the vaccine if I'm not an Axis patient? You do not have to be an Axis patient to receive a vaccination. However, if you would like information about becoming a patient, please ask the person handling your registration on the day of the event.
Can I sign up my spouse/partner/friend? If your contact meets eligibility for the current state vaccination phase, you may direct them to call 970.828.2539 OR sign up on our Online Vaccination Scheduling Form. 
What COVID-safe practices do you have in place to protect people receiving the vaccinations? We follow all recommendations and guidance from the Centers for Disease Control and Prevention (CDC), state and local agencies to keep everyone safe. This includes requiring masks for everyone on site, PPE for inoculators, sanitizing frequently touched and used surfaces, and maintaining social distancing inside the clinics. 
Should I arrive early, or right at my appointment time? Please arrive at your exact appointment time. This will help you avoid standing in line in varying temperatures and weather. It will also maintain social distancing and an efficient flow of people through the vaccination clinic.  
Will I have to wait in line prior to my appointment? If you arrive early, we may ask you to wait in a short line or be comfortably seated in your vehicle until your appointment time. If you arrive on time for your appointment, there should be a minimal amount of waiting to begin the process.  
What should I do if I have to cancel? You may call us at 970.828.2539, OR click the link at the bottom of your vaccination-appointment confirmation email. 
Can I volunteer to help with the vaccination clinics? We welcome community volunteers over age 18. Please email CovidVax@axishealthsystem.org for more information. 
Where else can I get a vaccination? If you have not already signed up for vaccine notifications from San Juan Basin Public Health, we recommend doing so. You can sign up for SJBPH Vaccination Alerts here.  You can also sign up with other community partners using the state registry of Vaccine Providers.  Walmart, Sam's Club, Safeway, Cardinal and Kroegers (City Market and King Soopers) pharmacies are also administering COVID-19 vaccines in Colorado through the U.S. Federal Retail Pharmacy Program. Eligible customers can check vaccine availability at each location, or schedule a vaccine appointment via each pharmacy's website.  
Does the vaccination shot hurt? No more than your typical vaccination. It is very similar to a flu shot.
What happens if I have an allergic reaction immediately afterward? Please notify the registration staff and inoculator prior to your shot if you are concerned about an allergic reaction. After your vaccination, you will be asked to wait 15 to 30 minutes in our Observation Area. A medical professional will monitor you for symptoms and provide emergency care if needed.
How long does it take to get through the vaccination clinic? It takes 30 to 45 minutes on average to receive your vaccination: 15 minutes to check in and receive your shot, and 15 to 30 minutes to wait while seated and socially distanced in the Observation Area.
What symptoms can I expect in the days after receiving the vaccination? Please refer to the following information sheets on the Moderna and Pfizer vaccines. 
What should I do if I'm concerned about my prescription drugs or my reaction to the vaccination? Consult with your primary care physician.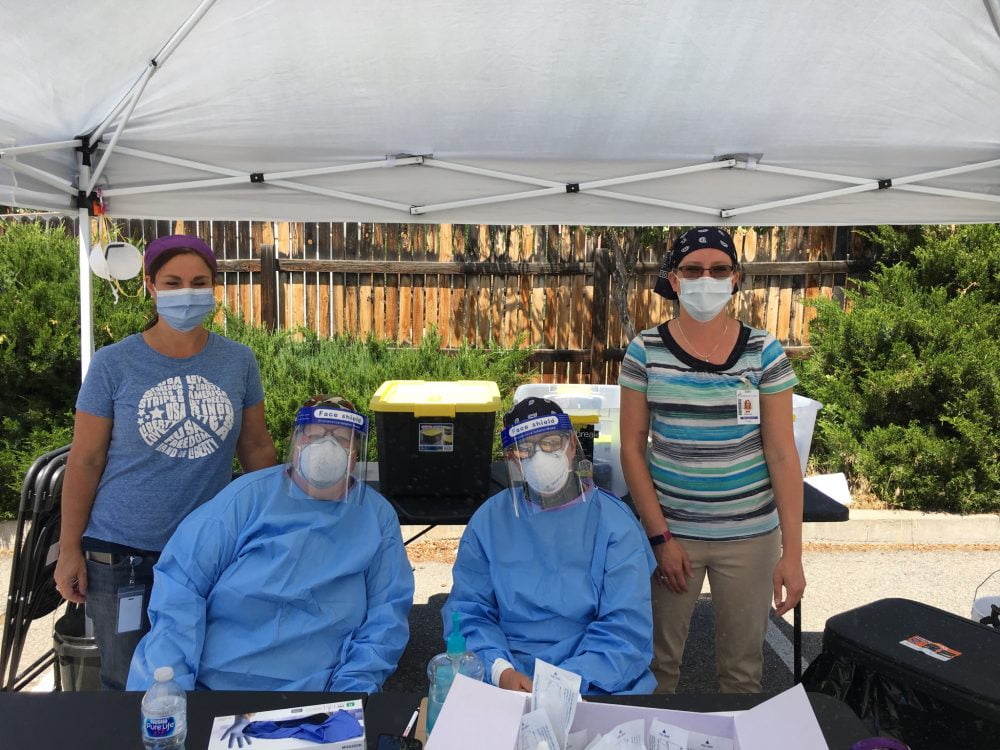 If you think you have COVID-19 symptoms, or have had direct exposure to someone with the virus, call your medical provider. As of mid-November, 2020, free COVID-19 testing is available at multiple locations in Southwest Colorado. Due to changing circumstances and availability of tests, we recommend calling ahead to confirm days and times of the testing listed below.
November 13, 2020 – To address increased community demand for COVID-19 testing, the San Juan Basin Public Health (SJBPH) Community Testing Site is now at the La Plata County Fairgrounds, 2500 Main Ave., Durango.
Testing is available from 10 a.m. to 4 p.m. Monday through Thursday and Saturday. There will be no testing on Fridays at this time. This site, which allows for expanded capacity and smoother traffic flow, is made possible by support from partners including the City of Durango and La Plata County.
Anyone with COVID-19 symptoms, those who believe they may have been exposed either through known contact or general community interaction, and people in critical sectors who are in frequent contact with the public – early childhood, K-12, first responders, and critical government services should get tested at this free community testing site at the fairgrounds. No appointment is needed.
People who need written results should use appointment-based testing through private testing providers as written results cannot be provided for free community testing.
Cedar Diagnostics also offers PCR diagnostic testing in La Plata and Archuleta counties.
For more information, visit www.sjbpublichealth.org/coronavirus.
Antibody testing information:
As of mid-November, 2020, Southwest Health System in Cortez is offering COVID-19 testing at their drive-through clinic. The hours are Monday, Wednesday and Friday from 8 a.m. to 2 p.m. and Tuesday and Thursday from 12 to 6 p.m. The Drive-Through Clinic is located at the EMS Building at the northwest section of the campus. It can be accessed through the entrance north of the main hospital entrance. Please follow the signage. The COVID-19 patient information line is 970.564.2201.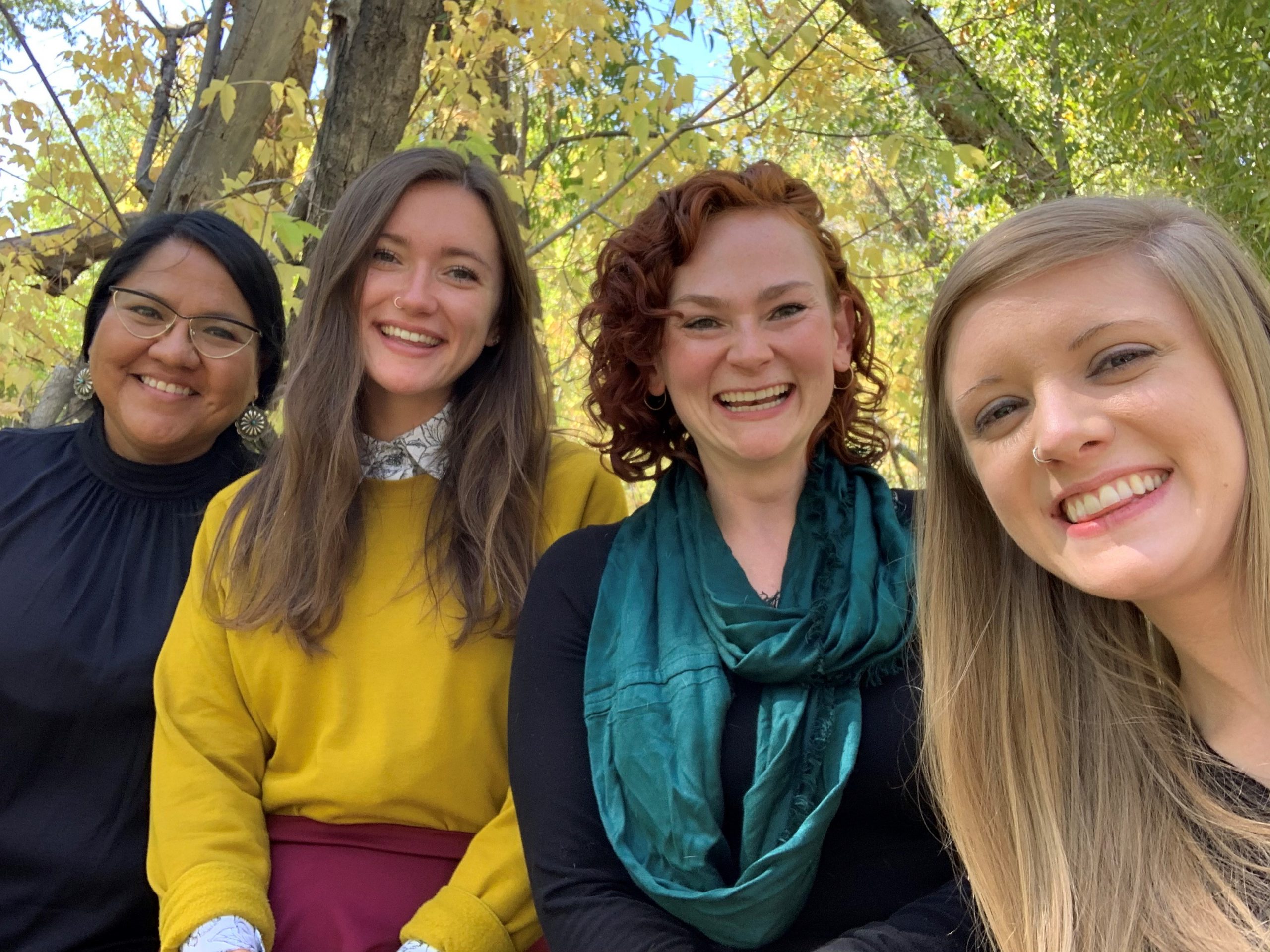 Community Counseling Program
In partnership with the Colorado Spirit Crisis Counseling Program and Federal Emergency Management Agency (FEMA), Axis Health System's Community Counseling Program (CCP) connects anyone impacted by the COVID-19 pandemic with quality services and support. CCP helps with the recovery process, emphasizing emotional support, connection to helpful resources, coping strategies and referrals.
Axis Health System is a provider of Colorado Crisis System Services. Funded in part by the Colorado Department of Human Services. 
Axis Health System complies with applicable Federal civil rights laws and does not discriminate on the basis of race, color, national origin, age, disability, or sex. Axis Health System does not exclude people or treat them differently because of race, color, national origin, age, disability or sex. For more information, click here.