We are accepting new patients at all of our clinics.
Accepting new patients
Axis Health System welcomes patients of all ages and stages of life. We make care accessible for everyone.  First, we accept older adults with Medicare. Second, we welcome children with Child Health Plan Plus (CHP+). Third, we accept adults and families with Medicaid. In addition, if money is really tight, we offer a sliding-fee scale for people who qualify. Our staff respects people of all races, genders, sexual orientations and places of origin. We use interpretation services so we can connect with you in any language. Our care teams put you at the center of your own well-being. YOU are the "axis," and our team revolves around your unique needs.
Access to Axis
Southwest Colorado is considered "medically underserved," which means it can be tough to find a healthcare provider. For instance, rural towns are many miles apart. It can be challenging to drive long distances to appointments. That's why our clinics are spread out across the region, from Pagosa Springs to Durango, Cortez and Dove Creek. We are accepting new patients at each of our locations. Telehealth options via phone or video give you flexibility. As a result, you can visit with a provider from the comfort of your own home.
Your first visit
Here's what to expect at your first visit. First, call the location of your choice to make an appointment. Second, read through our Patient Handbook before your appointment. You can also ask for a print copy at the clinic. Next, fill out a Patient Enrollment Packet. It's fast to type into the fillable form online. Or, you can print it out and fill it in by hand. To save time, bring the finished packet to your first appointment. If you don't have a printer, you can fill out the forms before your visit. It takes about 15-20 minutes to fill out by hand.
How to prepare
We want to make your first visit as easy and stress-free as possible. Here's a list of things to bring to your first appointment:
A valid photo ID, if you have one

Your current insurance card

A list of any medications you're taking

Your completed enrollment packet

A copy of your medical record from your previous provider, if available
Other reminders:
Your enrollment packet can be brought in person or emailed to FrontOfficeStaff@axishealthsystem.org

Please cancel your appointment at least 24 hours in advance if your schedule changes.

We accept cash, checks or credit cards for payment. Learn more on our page paying for your care.
All our patients complete a digital screening survey while they are in the clinic waiting room. Learn more on this page.

If you don't have insurance, or you think you might qualify for the sliding-fee discount, please ask us for more information when you come in for your appointment. Learn more about the sliding-fee application.
Telehealth:
Try a virtual visit
In 2020, Axis Health System rapidly increased telehealth options. That means many patients are doing their appointments by phone or video. They don't have to go into an office.
Many behavioral health visits can be done by telehealth. For example, this includes counseling and psychiatry. Some people may prefer the privacy and comfort of their home when they talk about emotional concerns. In addition, telehealth visits can be for substance-use treatment. People can also use telehealth 24 hours, 7 days a week to get immediate help during a mental health crisis. Axis 24/7 Care Line: 970.247.5245.
Similarly, some primary care visits can also be through telehealth. Not every situation makes sense for a virtual visit. However, it's great for things like follow-ups or medication management. It's a  way for patients to see providers and connect with them.
Benefits of telehealth include:
Remote access to providers
Flexible appointments
Convenience
Comfort and privacy of your own home
No transportation concerns
Ask your Axis Health System provider if telehealth is a good fit for you. You can also contact the front desk of your clinic.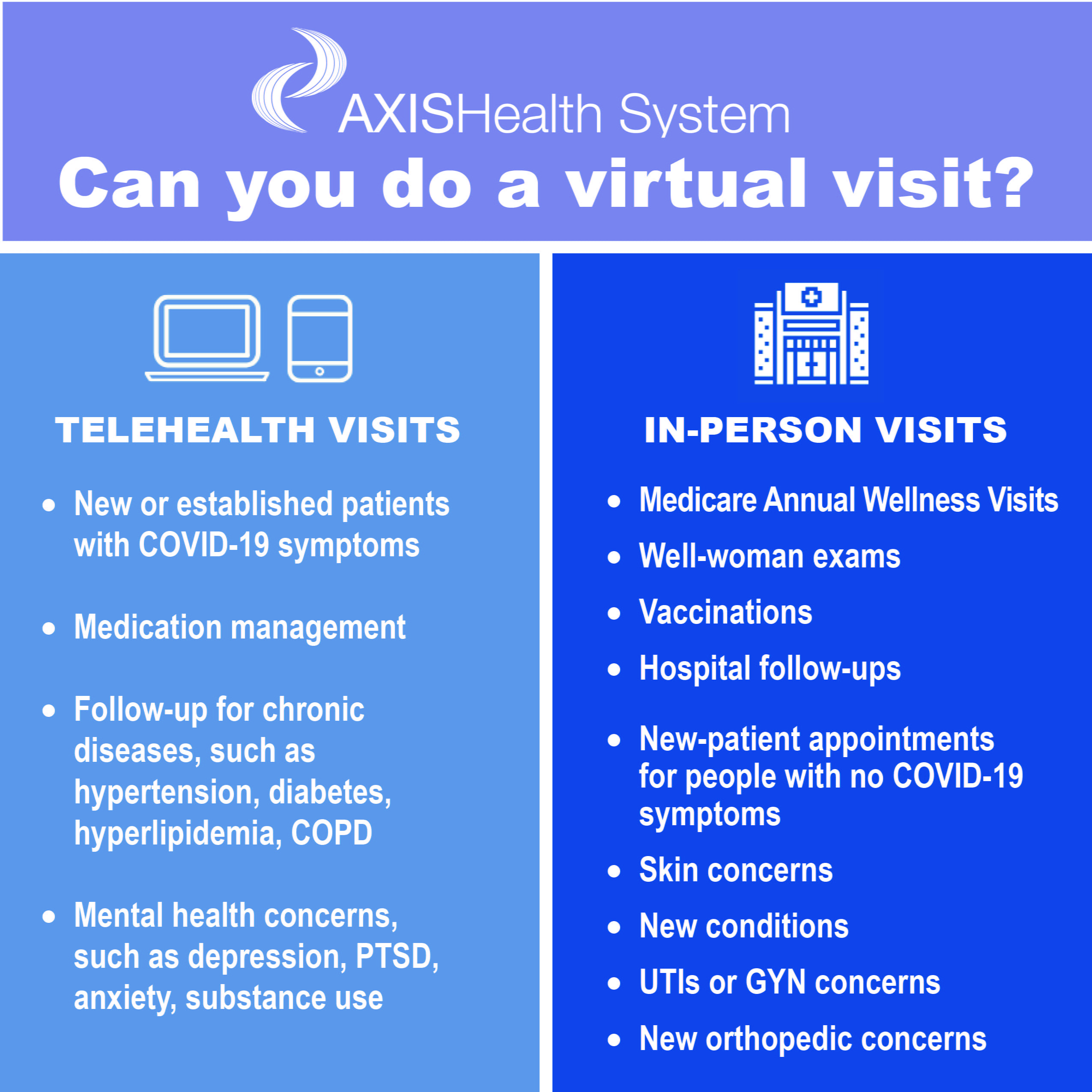 Patient focused
Here for you
OUR MISSION
To make a meaningful difference through healthcare innovation
and caring for the whole person.
Axis Health System is a provider of Colorado Crisis Services. Funded in part by the Colorado Department of Human Services. 
Axis Health System complies with applicable Federal civil rights laws and does not discriminate on the basis of race, color, national origin, age, disability, or sex. Axis Health System does not exclude people or treat them differently because of race, color, national origin, age, disability or sex. For more information, click here.