Western Slope, Colo. – Axis Health System, a distinguished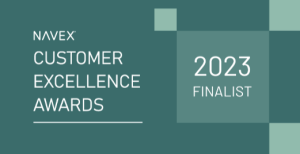 leader in primary care, behavioral health, oral health, and crisis services, is proud to announce its standing as a finalist for the 2023 NAVEX Customer Excellence Award. This nomination is a testament to Axis' outstanding accomplishments and unwavering dedication to ethics, compliance, and overall risk management under the leadership of Ethics and Compliance Director Amber Manwaring, MBA-HC, CHC, MLS(ASCP) CM. Manwaring has also been selected to speak at the upcoming Health Care Compliance Association's Clinical Practice Compliance Conference, which will highlight best practices in healthcare compliance across the nation.  
Following a rigorous selection process, a panel of industry experts has curated a cohort of exceptional organizations committed to upholding the highest Governance, Risk, and Compliance (GRC) program standards. The finalists represent a diverse cross-section of company sizes and industries, thereby underscoring the universal significance of effective GRC practices in today's complex business landscape. Each finalist has showcased innovative use of NAVEX solutions to manage risks, ensure compliance, and drive overall company success. 
Winners of the 2023 NAVEX Customer Excellence Award will be announced prior to the 2023 NAVEX Next Virtual Conference on September 12.   
The Customer Excellence Awards recognize exceptional program performances from NAVEX's 13,000+ customers worldwide, covering 70 million employees, categorized by company size and across three categories: Ethics & Compliance, Integrated Risk Management and GRC Program of the Year. 
Axis Health System is an experienced rural and frontier healthcare provider, established in 1960, and is a 501(c)(3) tax-exempt nonprofit. Axis is a Licensed Behavioral Health Provider, a licensed Substance-Use Disorder Treatment Provider, and a Health Resources and Services Administration (HRSA) designated Community Health Clinic (CHC). Axis provides behavioral, oral, primary, and crisis healthcare. 
 For media inquiries or to arrange interviews, please contact:  
Haley Leonard, Public Relations Director, Axis Health System, 970.335.2207 or hleonard@axishealthsystem.org