Transition from Health First CO to Child Health Plan Plus (CHP+) or Connect for Health CO
How to Transition from Health First CO to Child Health Plan Plus (CHP+) or Connect for Health CO
Child Health Plan Plus (CHP+)
Some members who no longer qualify for Health First Colorado (Colorado's Medicaid program) may qualify for a different kind of coverage. For example, kids may not be eligible for Health First Colorado, but could qualify for the CHP+ program. These members will receive information about the new program they qualify for in their notice of action (see example below) and we will connect them to the other coverage. They recently eliminated the CHP+ enrollment fee for kids and pregnant women to make the transition to coverage easier.
Reduced-cost coverage through the Connect for Health Colorado marketplace
If members no longer qualify for any of our health coverage programs, we will let them know that they may qualify for reduced-cost health insurance coverage through the state's health insurance marketplace, Connect for Health Colorado. A sample notice of action letter for this situation is below. This letter is about your medical benefits.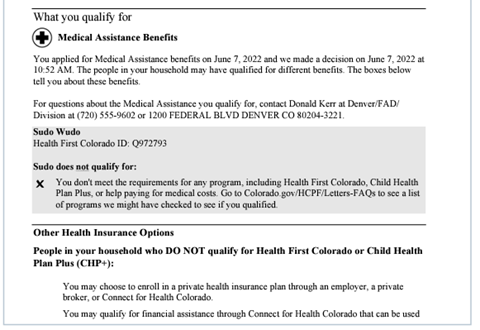 Losing Health First Colorado or CHP+ coverage is a "qualifying event"
Members with a qualifying event can seek coverage outside of the regular Open Enrollment Period (Nov. 1- Jan. 15) during a 60-day Special Enrollment Period. Here are the transition steps from state health coverage programs to Connect for Health Colorado.
1. Customer receives a letter from the state telling them they are no longer eligible for Medicaid/CHP+ and encouraging them to apply with ConnectforHealthCO.com
2. Connect for Health Colorado conducts targeted outreach to the individuals receiving this letter via direct email communication
3. Customer may receive additional information from our coordinated stakeholders, such as Brokers, Assisters and Regional Accountability Entities
4. Customer selects a health insurance plan during their 60-day Special Enrollment Period, and their coverage begins on the first day of the month following plan selection
5. Customer is covered!